Thank you for stopping by! My name is Kimber and I am a Positive Change Strategist who specializes in working with those who have experienced a life altering loss find the answer to the question "What is next."
In my early 20s I lost my best friend in a tragic accident. It was something I could never have imagined happening. My invincible youth seemed to come to a screeching halt. I started questioning the direction of my life. I was feeling miserable in my first "real" job after college. I didn't know what I wanted to do at that moment but I knew that life was too short to be miserable so I quit. Even after leaving that job, it has taken me many more years of trial and error to figure out what I was meant to do.
I have always known that helping people was important to me. I just couldn't quite figure out the right way to use that knowledge in a career. It was only when I started taking the time to explore my passion that I realized I needed to find meaningful work that aligned with my values. I started taking courses online which led me to discover life coaching. I started thinking about those moments when a total stranger would come up to me and start talking to me about their life. I remembered comments from friends telling me they always felt better after our conversations. I realized that life coaching was already something I was doing, just not professionally. Today I am truly excited to be able to help you discover and reach your goals through our coaching relationship!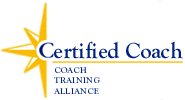 The premise of coaching is that YOU have the answers, maybe not right at the surface but somewhere within YOU. Coaching works because YOU are in the captain's seat. As the Coach, I will be the passenger beside you helping you navigate your way. I will offer you questions, reflection, observations, confidentiality, support and accountability to assist you in finding the answers you are seeking to find. YOU will offer your agenda, insights, openness, truth, and energy.
Coaching is a Co-creative relationship between Coach and Client. Coaching is not Consulting in that a Coach does not provide you the solutions. Coaching is not Therapy as it does not focus on your past. Coaching is focused on the present and the future. Coaches act as a detached thinking partner. As a team, we create more power for you to effect meaningful change and take dynamic actions toward your goals.